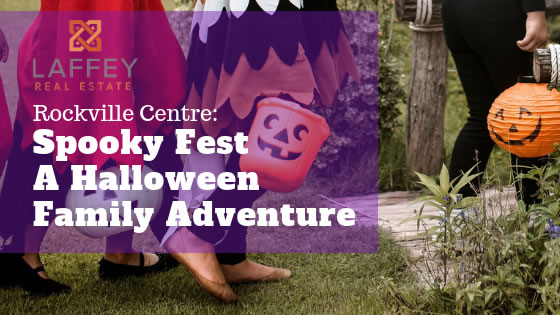 Long Island's Rockville Centre is a close-knit, family-friendly community sure to top your list of possible new hometowns when you're searching for homes for sale in Rockville Centre.
As our real estate agents will attest, there are plenty of things going on in this community for everyone from seniors to young families with children. One of the most popular of these is happening soon: Rockville Centre's Spooky Fest.
About Spooky Fest: An Annual Rockville Centre Halloween Celebration
Spooky Fest is an annual tradition in Rockville Centre, presented each October by the Center for Science Teaching and Learning (CSTL), a non-profit organization based in the community. The event takes place for seven days in October, during which the Tanglewood Preserve becomes 16 acres of family-friendly, spooky Halloween fun – complete with wooded paths, special effects, eerie lighting and plenty of characters and creatures.
This event has something for everyone. There are attractions for those who like their Halloween fun on the scary side. Among the annual favorites are the Maze of Zombies and the Scary Walk through the Haunted Woods, a quarter-mile, very scary hike that features an abandoned cemetery that comes to life every October – just in time for Spooky Fest.
For families with young children who need a less scary experience, there are plenty of not-so-spooky attractions too. The Not-So-Spooky Walk is a fun, colorfully lit walk through the woods that tells a Halloween story. Kids will meet friendly Halloween characters along the way, including Happy scarecrows, butterflies, friendly ghosts and much more. Other not-so-scary attractions include face painting and arts and crafts areas, a food truck, Friendly Merry Monsters, and the Amazing Animals Live Animal Exhibit. 
Spooky Fest: Dates, Times and Other Details
Here's what you need to know if you would like to experience Spooky Fest as you check out Rockville Centre real estate. The dates for this year's Spooky Fest are October 13, 19, 20, 21, 26, 27 and 28. The event runs from 6:30 - 9:30 pm on each of those seven days, rain or shine. Tickets are available for purchase at the event's admission gate, located at 1450 Tanglewood Road.
Admission costs are:  $10 for non-spooky attractions only / $15 for all attractions, including scary and non-scary
Cash or credit cards are accepted. There are no advance ticket sales or group rates offered for this event.
Your Long Island Real Estate Professionals
When you're ready to begin your search for homes in the Nassau County real estate area, our team at Laffey Real Estate is here to help.  Contact us to schedule an appointment with one of our local Long Island real estate pros to get started.