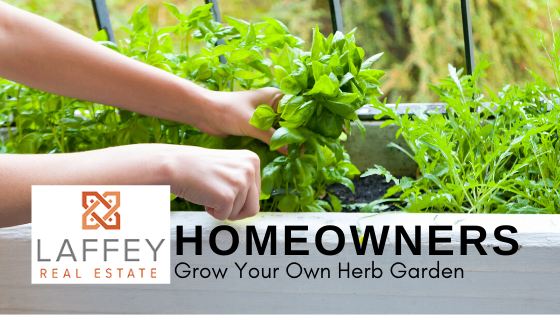 Tired of buying fresh herbs at the supermarket and after snipping a few leaves, you find them withered in the fridge, unusable? What if you had your very own herb garden, where you could pinch off just as much as you needed and no more, leaving the plant to grow on and keep producing? If you've thought about an herb garden but weren't sure how to get started, take heart. Many herbs are easy-peasy to grow. 
While you can grow herbs handily indoors in a sunny window or with a grow lamp, you can also create garden magic with herbs outdoors. Your herbs will be more profuse with plenty of sunlight and fresh air, so it's worth a try. What's more, if you take some care to ensure it's well designed and lovely to look at, your herb garden can be a selling point when you put your Long Island home on the market. Just ask our real estate agents about this and other tips for selling your home.
What Kind of Herb Garden?
While it's perfectly fine to grow a mishmash of herbs in a so-called kitchen garden — that is, a garden where you grow edibles to use in food — herb lovers traditionally have grown many different kinds of herb gardens, such as these:
Scented herbs
Bee garden
Butterfly garden
Shakespeare garden
Medicinals garden
Fragrance garden
You get the picture. Do your homework and get a feel for what herbs attract you. Be sure to find out if our climate is friendly to them — that is, they thrive in our longer winters and shorter summers. Also, consider the microclimate where you plan to grow your garden. What kind of sun does it get? Is there a wall nearby to reflect heat? Does one side of the home offer protection from wind and storms?
There are many online articles and videos to help you get going with an herb garden, but two books that might be helpful are: "The Cook's Herb Garden: Grow, Harvest, Cook" (DK Series) and "Rosemary Gladstar's Medicinal Herbs: A Beginner's Guide: 33 Healing Herbs to Know, Grow and Use."
Choosing Your Plants
For simplicity's sake, let's say you've chosen to start off with a basic kitchen garden. How about some common, easy-to-grow and easy-to-acquire herbs such as:
Basil
Rosemary
Mint
Oregano
Thyme
You could successfully grow these common herbs in containers on your patio and have plenty to cook with. An indoor/outdoor stackable vertical herb planter might be a good idea if you want to ease into herb growing. You can easily move these planters indoors in the fall. 
Your Garden Plot
Let's say you choose a small area in your backyard that gets good morning sun and dappled sun in the afternoons. That should be ideal for many types of herbs. Here are the next steps.
As with any garden, a raised bed is recommended, both for the health of the plants and ease of maintenance. Mark off the area with rope or spray paint. Double dig to a depth of 16-18 inches. Remove rocks and roots.


Place a 4x8-ft. frame for your garden bed. You can make one, order one online, or find one at the garden store. 


Mix good garden soil and compost with the soil from the bed.


Start seedlings indoors unless instructions say to direct seed in the ground. Protect young plants with glass or plastic cloches.


After planting, add mulch around the garden, being careful not to cover up plants.
Want more tips for cultivating your Long Island home? Contact us today.