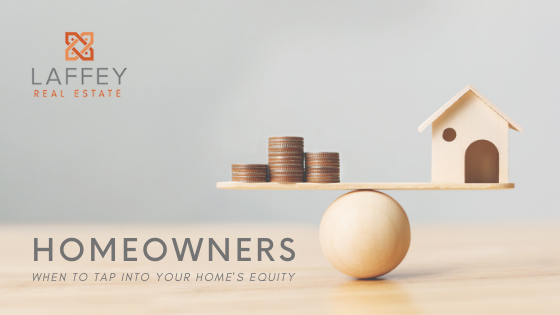 At Laffey Real Estate, our real estate agents want to help you make informed decisions about homeownership. One of the biggest ones is whether to tap into your home's equity.
Equity is the value that builds up over time as you pay off more of your mortgage. Every cent you pay on the principal, the initial mortgage amount, becomes equity. On the other hand, money that pays for loan interest provides no benefit to the homeowner; it is pure profit for the mortgage lender.
One of the things that makes homeownership so important is that, as you maintain your loan obligations, you are building up wealth in the form of your home. Traditionally, it has been reasonable to assume that homes would appreciate over time, further raising the asset's value.
Although it takes a while for a substantial portion of equity to build up, you can access it anytime in the form of a home equity loan or home equity credit line. Elders may be eligible for a "reverse mortgage."
But when should you access your equity – and when is it a bad idea?
When You Might Want to Access Home Equity
You're Using the Funds to Improve Your Property
Some nonprofits assert that the only time you should use your home equity is when you are planning a sale – and will be able to recoup the investment in the form of a better asking price. A real estate agent can advise you about the renovations most likely to improve your profits.


You Have a True Financial Emergency


A major emergency that could cause significant harm to health and home is a valid reason to explore a home equity line of credit. This includes things such as a sudden healthcare bill or unexpected tax obligation, which would have substantial effects well into the future if not paid promptly.




Your Other Funding Options Are High-Interest


If your only other funding options are credit cards or personal loans, you will probably get more money "leverage" from your home equity. Likewise, home equity should be used before retirement funds. Still, it's important to have a plan to catch up and restore your home equity over the next several years.
When You Should Think Twice Before You Act
You Need a Vacation


While it's perfectly understandable to want to get away from it all, home equity is one of the worst ways to pay for a vacation. Even a modest international trip has fewer repercussions in the long run if you pay using a combination of cash savings and lower interest credit.




You Want a New Car


Car loans are notorious for their high interest, so it might seem logical to pay off a vehicle in one fell swoop might seem logical. In practice, though, it usually isn't the best use of your home equity. Unlike a home, a car is almost guaranteed to lose value rather than gain it, and it also comes with plenty of overhead.




You're Paying Off Debt
Paying off expensive debt with cheaper debt can be a wise move under certain conditions. Determine just how much money you stand to save over time compared to the loss of equity value. Be sure you'll have the opportunity to address the underlying financial issues so the debt doesn't "grow back."


You're Paying for Education


Unless a new credential will significantly raise your earning potential within three years, it's usually not a sound home equity investment.
Contact us at Laffey Real Estate to find out more today.