Celebrate National Love Your Pet Day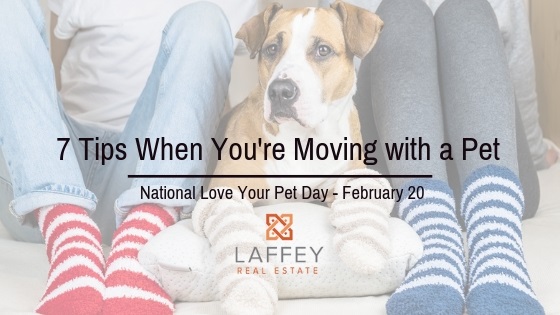 National Love Your Pet day is coming up on Wednesday, February 20th. Just like you, our real estate agents at Laffey Real Estate love their pets. Whether you're a dog person, a cat person, or anything else, there's one thing we all agree on: Pets are part of the family!
With that in mind, it's vital to take steps to keep them safe and comfortable while you move.
Moving day is an exciting time, but it can be stressful – to pets as well as people. The noise, confusion, and movement can lead to unexpected behavior from overstimulated animal friends. By taking a few quick steps early on, you can make the process more peaceful for your pets.
Let's look at seven quick tips for moving with your pets:
Gather Your Supplies
Long before it's time to set out to your new home, be sure you have enough "pet stuff" to keep your furry friend supplied for a week. That includes things like food, litter, medications, and toys. This way, you won't have to worry about finding and unpacking supplies right away.


Talk to Your Vet
Going to the vet often ends up on the bottom of the priority list for people and pets. Now's the perfect time to check in. Not only can you ensure your pet is up to date on shots, but also get a new supply of medication and take copies of medical records.


Transport Pets in Your Vehicle
When it's time to move pets, familiar surroundings count. If they're already used to their carrier and your car, this is a winning combination. Some animals will enjoy a long car ride more if a blanket is used to cover the carrier and protect them from the changing view.


Keep Pets Safely in Their Carriers
When moving day comes, keep your pets in a carrier for their safety. Only let them out once they've safely reached their new home. Even once you get there, be sure that you've brought familiar toys and blankets to help them acclimate to the new space.


Move House First, Then Move Pet
The best way to keep pets from panicking is to do as much moving as possible before you disrupt their routine. Ideally, pets should only move into the new space when you do the same. Consider restricting pets to one room, then gradually opening more of the house for them to explore.


Find a Quiet Place for Pets
On moving day, it's essential to keep pets away from the action if possible. Boarding pets with a friend or trusted local business is best. When this isn't possible, a closed, comfortable room will do. Keep pets on a floor separate from where the most unpacking is happening.


Update Your Pet's "Contact Info"
When the big day has come and gone, there's one more crucial way to protect your pet. Be sure you have a new collar with contact information ready to go! Likewise, if your pet has a tracking microchip, take steps to update those details.
Your Pets Can Be Happier In Your New York Home
The whole family benefits when you have a home that meets your needs – including your pets.
Now could be the perfect time for you to get a home with a great backyard for your dog or plenty of climbing spaces for your cat. Laffey Real Estate makes it easy with the best customer service.
Contact us to discover all your real estate opportunities with Laffey Real Estate.